It was Avery's second Halloween! The last she was 2.5 months for so didn't quite get much out of it, but this one she loved dressing up for! I thought she would want to rip that lady bug costume off, but... nope! She loved it, and still wants to wear it.
When I first put it on her she kept squatting and feeling her big bum and smiling! And since Halloween her costume has been on her chair in her room and she goes in there and brings it out to me! haha, so I'm glad she enjoyed it, it was a comfy warm outfit!
So we had our yearly Halloween party at the church Wednesday, and then my parents and Kamry and Jason and little Talia came over Halloween. We had some home made clam chowder and home made bread (my first home made bread and it was good!) We took pictures of the girls (Talia was a cute little Santa) and then went to a couple houses with Avery. She didn't quite get trick or treating yet, but she didn't hate it! She enjoyed going door to door and seeing all the funny looking people. It was a nice night.
Since in our new house we didn't know how many trick or treaters we would get. We had a total of 6! Pathetic! I don't think many kids come on our street since we are on a busier street (waaaay to much leftover candy), oh well! Now I know for next year!
"Hey, this is kind of fun!"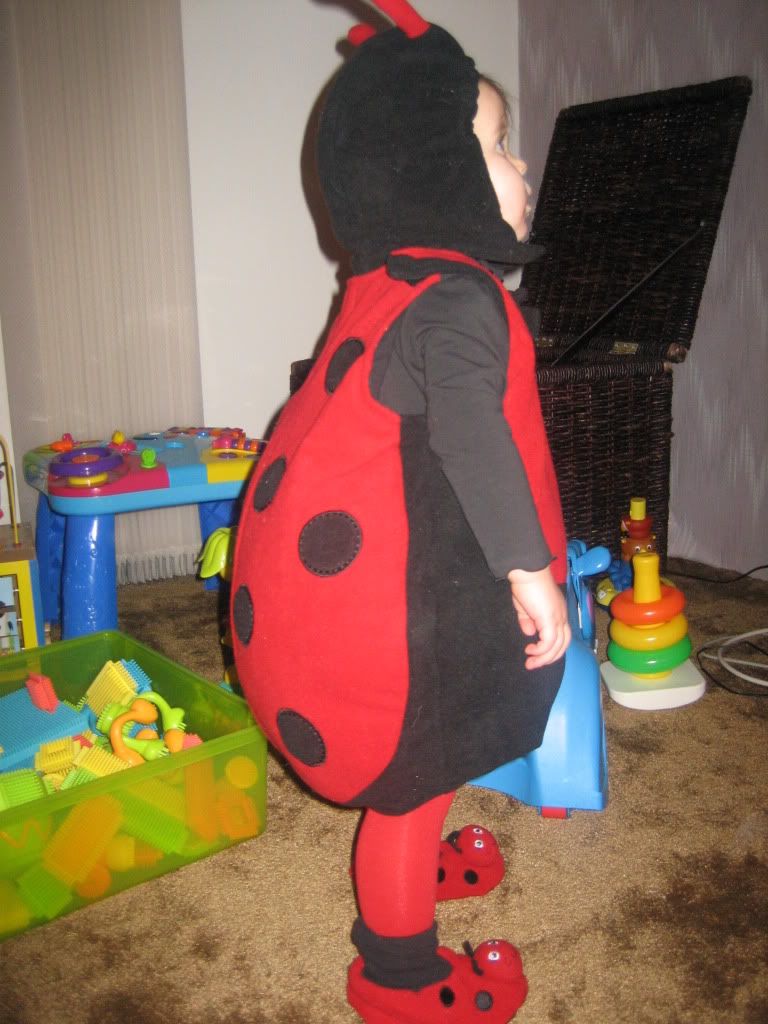 The big lady bug bum, it was the cutest watching her walk from the back, everyone at the church party got a kick out of her waddle.

Avery and her little cousin Talia, but over a month old! Next year they will have more fun together!