I honestly don't know why I haven't been a good blogger lately... we've been busy but I probably had time to blog. Maybe I haven't been too inspired with anything to to important to blog about, but I do think its a little lame that I only did 2 posts in November! Well December will definitely be much more eventful... maybe too eventful!
Well our house is officially and legally 100% ours! It has been such a long long wait for that day. It was official last week, there was 2 permits to get and an encroachment agreement from the city. Both were done and the permit was approved, it just took so long for all those things to be done! So basically we are beginning reno's now and hope to have our suite (in the basement) done before January, which pushes reno's upstairs needing to be done also (since we are using our old cabinets upstairs for the basement downstairs, and some of the old carpet from up here for down there, etc.) So Jordan finishes work on Dec. 18 for 3 weeks, so he along with some help from my brother will be working very hard! I helped much more with other reno's in our pasts houses we've done, but I feel kind of useless this time. And I do like to help, but being 4 months pregnant and a 1 year to watch there isn't too much I can do (except pick everything out, which I've had done for a while since I've had since August to think about it and live in this house and think how ugly it is and needs to change!)
So this Christmas is going to be odd, I'm going to do some decorating, but it breaks my heart to say I don't think we will be putting a tree up! Unless the carpet gets done right away (we are waiting to here back from our carpet guy) then putting a tree up just means one more thing to move when the carpet is installed. At least my Mom's house is just beautiful and Christmasy, and me and Avery will be spending lots of time over there while our kitchen is gutted and our house in un-livable. It will be a bit of a strange Christmas, but I'm glad we are staying here and not traveling, that would have just added to the craziness.
Right now what I'm looking forward too is next weekend! Me and Jordan are going
to Banff

,
just the 2 of us to celebrate our 5 year anniversary! Its actually on the 18th but that weekend didn't work out, but it will be so nice to have some time together away from our crazy house and relax a little!
Thankfully most of my Christmas shopping is done (except Jordan, hes so hard to buy for) to that stress is out of the way, and my Christmas cards are done and out. So now that they have been mailed to close family and friends here is the Heavenor family 09 Christmas Card!!!
And some recent pictures of what we've been up too... or I guess just Avery! haha, kind of funny when kids come I forget to take pictures of us and just her.
Avery's first pony tail! Her hair is sort of at the mullet stage, but I guess we have to get through that to grow her hair out!
Curlers before Church, it always shocks me she doesn't take them out.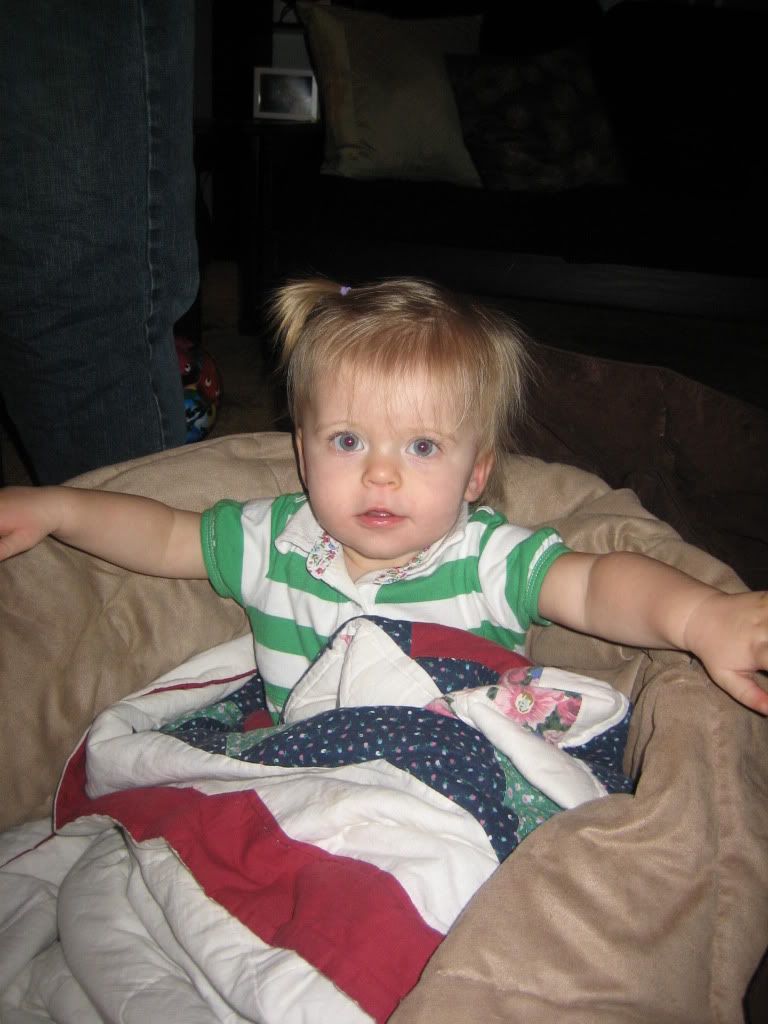 New favourite game of Avery's is playing in blankets!
Getting ready to go run erans with Mom and brave the cold!

Sorry if this post is scattered, that's how I feel my brain is right now with getting ready for Christmas and this renovation. Its alot to just schedule everything so our lives are totally disrupted, which they will be anyways! Don't get me wrong, I'm so excited to have a handy hard working husband that is eager to get it done, as well as make my house much nicer and not so ugly (I'm getting soooo sick of this wallpaper wall!) But I'm excited for when its all over!