WARNING: Long post!
This has been a very emotional week, but also many blessings have come; such as my family spending so much time together supporting one another and getting even closer. I'm blessed to have a very close extended family that lives mostly in Sherwood Park and Edmonton, and its nice when we come together when tragedies happen.
I feel now that today brought some closure and I can do some blogging about the weeks events. My cousin Brock who I love so dearly as do many more took his life last Saturday, Oct. 17. He has struggled with severe drug addiction and attempted at rehabilitation a few times and had not beat it. He spoke with many family members that morning and was going to come to my parents to help lay sod with the rest of the boys. My dad, his Mom and my aunt had all said he seemed like his normal cheerful self that morning. We believe it was a quick decision as no note was left and he just felt there was no way out.
If anyone knows Brock, they loved him. He was a very charismatic guy and had such a huge heart! My aunt Mari and Brock's brothers Chase and Breton are doing incredible well, they are so strong and amaze me! We spent most of last Saturday at Mari's just being together to strengthening one another and remembering the wonderful guy Brock was. There has been an overwhelming amount of love displayed to our family, and at the 1000 people that filled Bonnie
Doon
Stake Center today it was evident how loved Brock was.
I in particular remember when I was grade 7 and Brock was in grade 9. He told me if I had any troubles with anyone picking on me to let him know. I later had a loser grade 8er bugging me o the bus, and I told him my cousin was Brock Walker and he immediately stopped bugging me. (Brock was known as a tough guy.) Brock later asked if I'd had any troubles and he was not impressed when I told him about this. Later Brock and his friend Brock this kid down to my class room right before lunch and made him get down on hid knees and say sorry to me in front of my whole class... I was never bugged again. That was Brock, huge heart and would do anything for his family, but tough,
haha
.
Her is
Brocks
obituary:
On Saturday, October 17

th

, our beloved son, brother, nephew, and friend to so many set aside the burdens he carried in this life to cross through to the loving arms of those who had preceded him.
Brock was born February 23, 1983 in Edmonton Alberta. He is survived by his mother, Mari

Pizzey

, brothers Breton and Chase Walker; his father and stepmother Jim and Sandra Walker and his brother

Rheese

Walker. His

nana

; Doreen

Pizzey

and Grandfather Hank Walker. His girlfriend Marie as well as numerous aunts, uncles, cousins and friends. Brock was a very charismatic and charming man. He had a huge heart, a bigger smile, and a natural love for others. He will be greatly missed by all.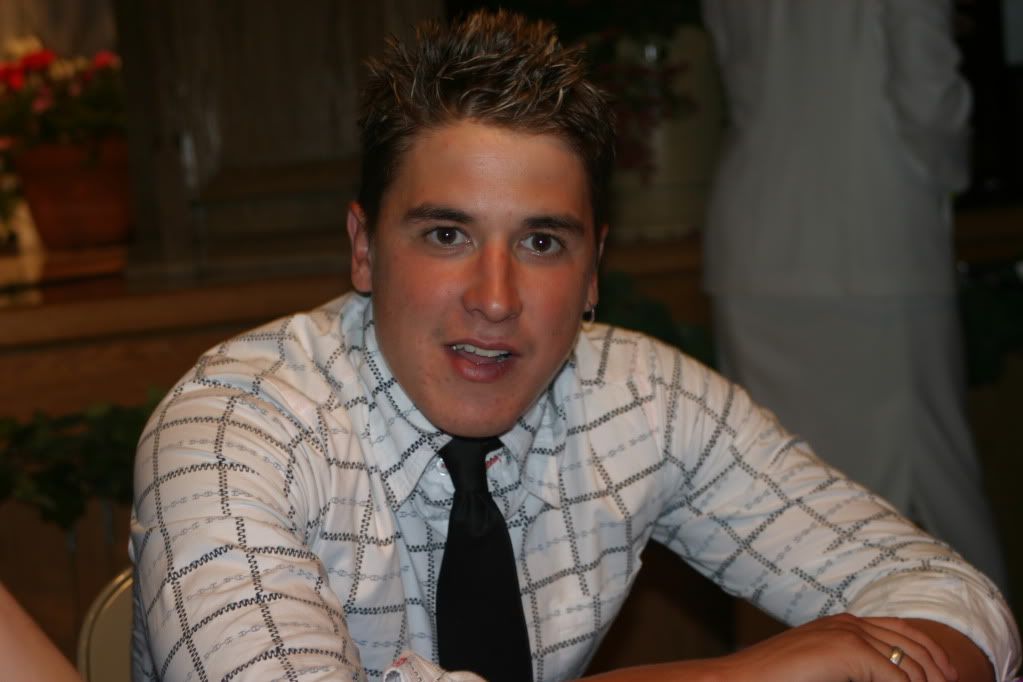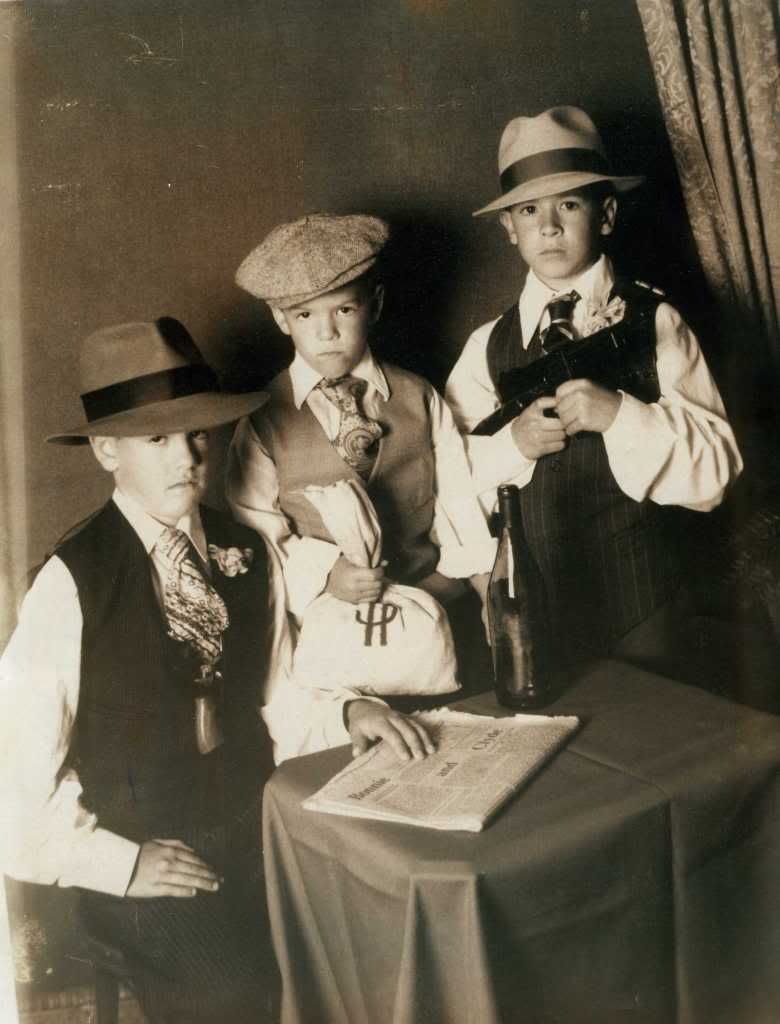 Brock and his brothers Breton and Chase when they were little. They truly were the cutest little boys.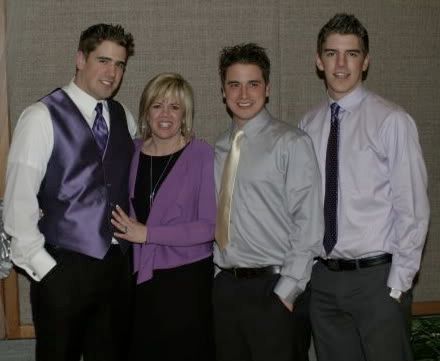 Brock and his brothers in february with there Mom Mari.
The service was so beautiful, my Auntie's Tonya and Tara gave a beautiful eulogy which made you laugh and cry, Brock was such a funny guy. My cousin
Kensey
and
Brocks
friend Mitch sang a lovely version of "I Need Thee Every Hour" and my dad gave an amazing talk on the Plan of Salvation and bunch of Brock's friends sang "Our Saviour's Love." The attendance was overwhelming, and it was a great time to remember Brock. I love you Brock, and know you are in a better place with a bright future.
Here are some pictures of the family today, I will explain who everyone is for those of you who don't know my family:
The cousins: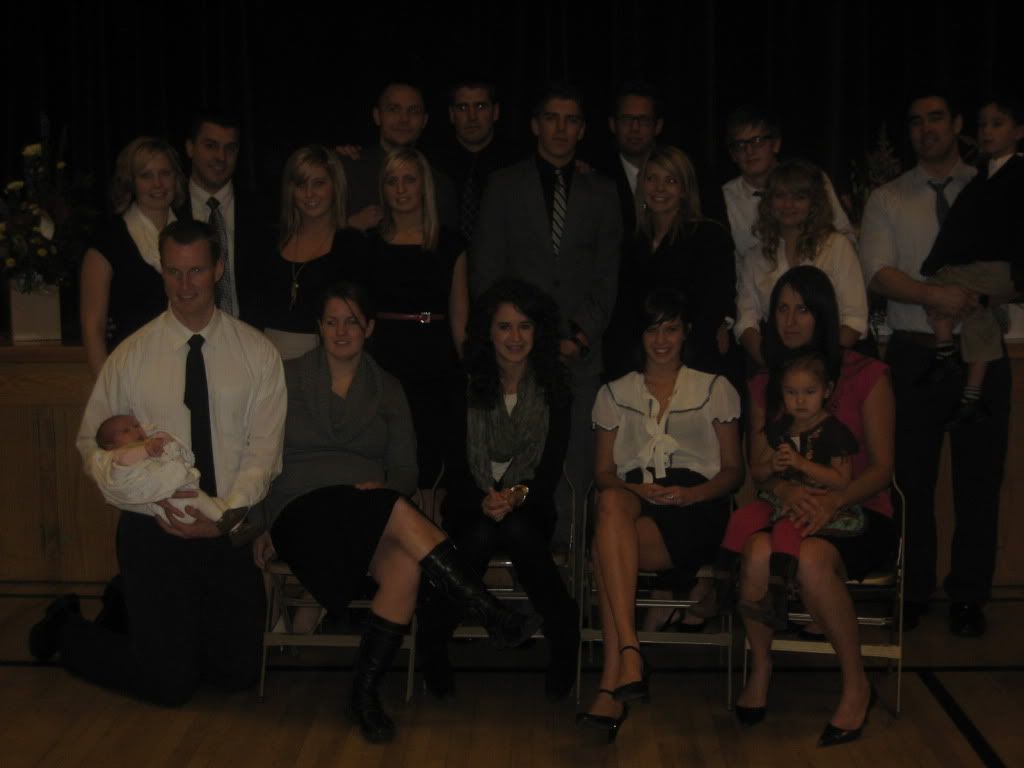 Top Left to Right: Me, Jordan, my sister Paige, my sister
Taren
and her husband Dave, Breton and Chase Walker (Brock's brothers), Tanner
McClung
and his wife Krystal (Tanner, my aunt
Taras
son), my brother Blake and his girlfriend Lindsay, Jesse Lang (his wife in front below)
Bottom Left to Right: My sister
Kamry
and her husband Jason and there little girl Talia, my cousin Emily, cousin
Kensey
and Cousin Kristen Lang (the last three all daughters of my aunt Tara.)
The Aunts & Uncles: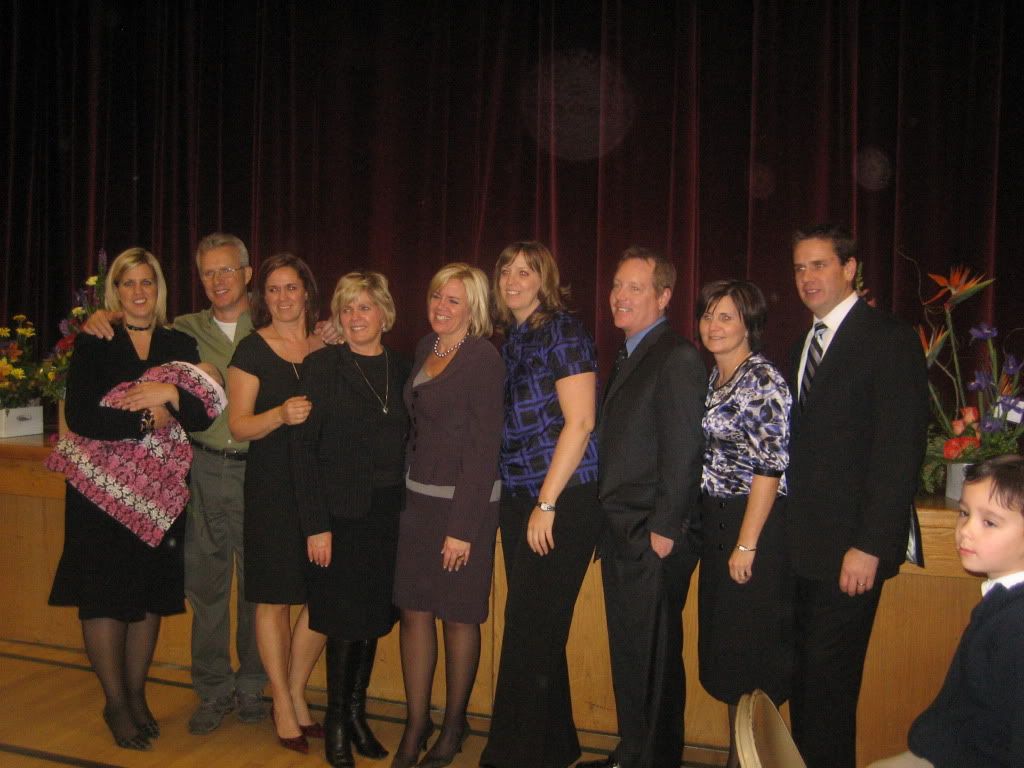 Left to Right: My aunt Tonya (my dads sister) holding my aunt
Kendas
baby Olivia, My Uncle George Lambert married to next my Aunt Tara Lambert (my dads sister), My Nana (my dads Mom) my Aunt Mari (my dads sister), My aunt
Kenda
(my dads sister) and her husband Liam, and my mom and Dad. Missing my uncle Kevin who had to go home after the service to Red Deer with his wife Pauline and daughter
Eppy
.
I love all these people so much!
As you see the title of my post, there are some happy things that happened also this week. My only and baby brother Blake got his mission call to Salt Lake City South! He's going to be such a awesome missionary!
Isn't he cute?! He was a little shocked because three boys out of there home ward were just called to Provo, so he thought Utah would have to be out! But hes very excited and heard great things about that mission.
And lastly, I guess I'll make it official on my blog... I'M PREGNANT! Yup, baby #2 on the way. I'm due May. 10, so 11.5 weeks! I wanted to wait till 12 weeks, but it got out some how to people in my ward, don't ask me how!? I haven't narrowed down the leak yet, so I figured I'd rather start telling people myself than hearing from other people.
We are very excited, we actually started trying in June and got pregnant right away, but a couple weeks after we found out we miscarried. I was only 6 weeks and although it was still tough to go through, with great family and being optimistic we got through it. We waited a little bit more after the miscarry, and hadn't quite started trying yet. But some determined little swimmer made its way through and we were surprised to be pregnant again so quick! But very excited and blessed! With the miscarry baby I felt no symptoms, but right away with this baby I started throwing up right a 4 weeks... and I was happy! This baby feels like its here to stay, and its already
causing
my belly to show! I forgot how early I show! Thank goodness for
diclictin
or I would feel awful, but as long as I
remember
to take them I feel pretty much normal. Still have to avoid some smells and food and eat right away in the morning, but feel pretty good! And excited!!!
Well that is my long post, thank you for anyone who showed my family support during this difficult time, it is very much appreciated! Love you!