We just got back last week from such a wonderful family vacation with my family! My grandparents always did family vacations with the whole
Pizzey
side every other year, and my parents have started that tradition. I think it is just wonderful and so gracious of them! We are very grateful to have these vacations with my side and make such wonderful memories over the years to come!
Our first vacation was Jan. 2005, we went to
Playa
Del Karmen in Mexico - fabulous! Next was July. 2007, went went house boating in the
Shu
Shwaps
- totally blast! And this time we went to Panorama which is right by
Invemere
in BC. Its a sort of resort little town on the ski hill. Years ago when I was in grade 10 or 11 we went skiing there for Spring Break, and its a great place! This was the first time staying there during summer and it was so much fun! There is tons to do there during the summer.
This was also Avery's first family vacation - it is so much fun watching her discover all the wonderful things in nature. She is such a outdoorsy girl and water baby (outdoorsy from Jordan, and water from me!) Right when we drove into the mountains she was glued to the window and pointing at all he mountains and big trees! Every morning we had breakfast on the balcony and she loved pointing to the tree, mountains and birds.
Our family was always the first up in the morning (Avery is up at 7, therefore we are!) So we would go for a walk everyone morning to the river and along the beautiful paths! There is a big pool that everyone in Panorama can enjoy! We loved that, there is a cold pool and a heated pool and hot tubs! We also enjoyed the beach in
Invemere
which was great! Did some cliff jumping at this really neat spring -
SOOOOO
cold, but lots of fun! And played lots of card games and just enjoyed time all together. Jordan also golfed a couple times with my parents and I was the trusty golf driver one round (I find golf such a peaceful sport, and once we can afford it and our kids are a bit older, I'm definitely taking it up. Something Jordan and I can do together, hes quite good.)
Anyways, enjoy some pics! Sorry if there a lot, and thanks to my wonderful friend Tara
Fullmer
who dumbed down some instructions for me to get big pictures on my blog, your the best Tar :)

Avery enjoying the view from our balcony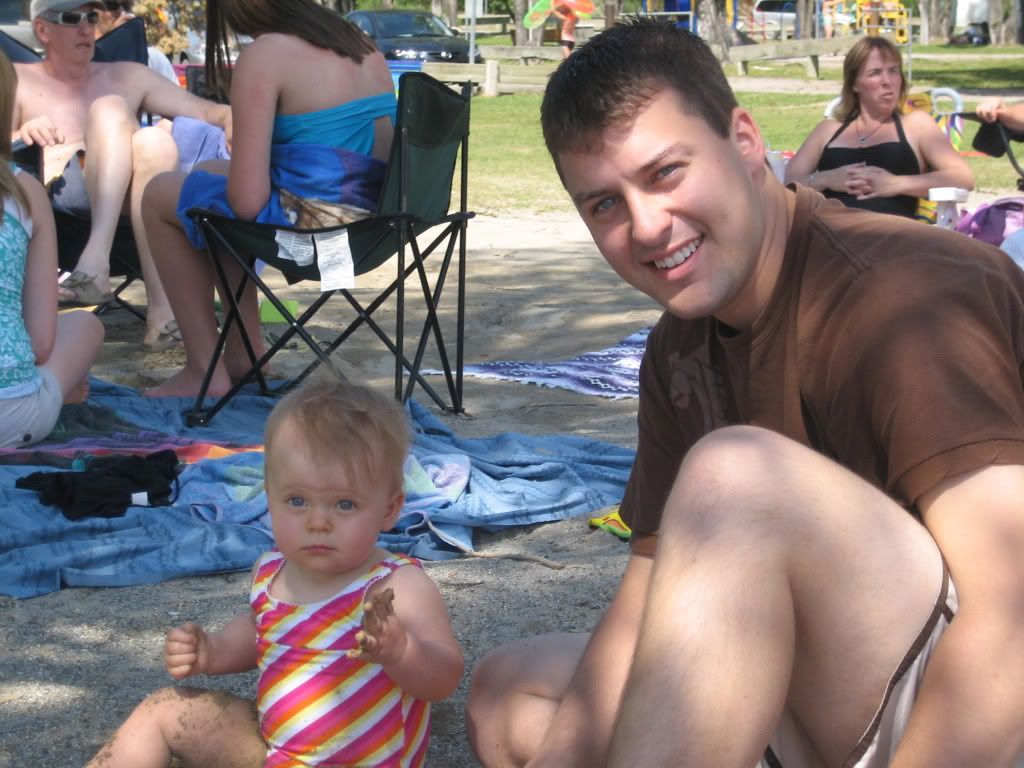 Playing in the sand with daddy, Avery's first day at the beach!

I love her face here, she LOVED sitting on the shore playing with the sand and getting splashed.
The pool at Panorama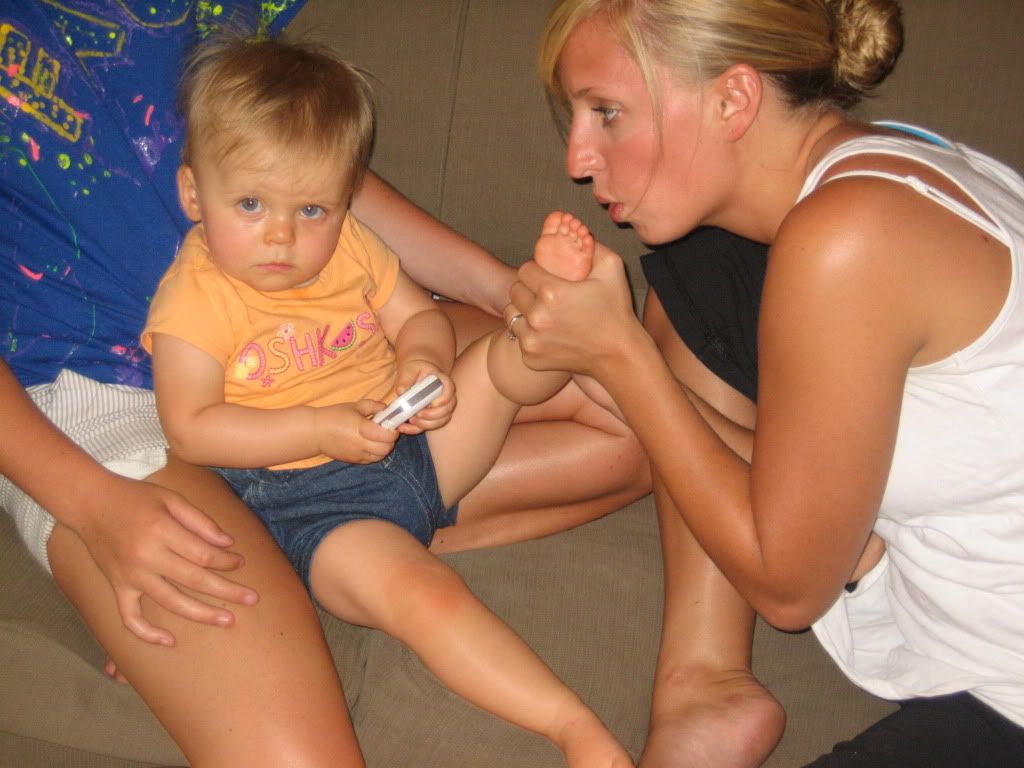 Avery's first pedicure by Auntie Taren, while Auntie Paige is teaching her to text - Diva in training!

Further down the beach its more rocky, which doesn't feel nice on the feet but Avery loved playing with the rocks! She would build pile after pile of rocks!
AND this is a hand me down very functional water suite - I don't prefer dressing my little girl as a boy, just to clarify!

Avery thought it was pretty neat to sit in this big chair by herself, she was probably also amused by all the people taking pictures of her. She got her fair share of attention. Every morning Nana and Grandpa would make there way over to our place if they hadn't seen her yet cause they were so excited to see her! Its cute, they are such great grandparents!
My wonderful family, it was a great trip!